CERTIFIED TESTING, ADJUSTING, AND BALANCING
Hydrair Balance Company specializes in Total System Balance of commercial, educational, and industrial HVAC systems. We have been serving the H.V.A.C. industry for over four decades. Hydrair's team of professional engineers and technicians are dedicated to the integrity of business and the environment to meet the constant changing standards of quality that today's Architects, Engineers, and Contractors require on air and water systems. Our goal is to exceed the requirements of the specifications while at the same time developing a lasting relationship between today's professionals and contractors.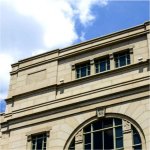 Independent Testing and Balancing Services
Hydrair Balance is an independent testing and balancing company that can provide you with an accurate analysis and written record of your system's performance. Without proper testing and balancing, an environmental system rarely meets all of the performance functions originally set by the design engineer. We can achieve these goals with the testing, adjusting, and balancing of each component of the complete system to achieve its original performance funtions.
The testing and balancing of the air and hydronic systems to design requirements while minimizing the use of dampers and valves is equally important in building acoustical quality.
Hydrair Balance Company performs testing and balancing of all types of air delivery systems. Whether it is conventional H.V.A.C. Systems, Bio Hazard, Pharmaceutical or Industrial we have the personnel and equipment required.
Helicopter Flight Simulator Room Sound Testing and Analysis Images